17 Silk Stocking Row is in a very remote location in the middle of Wrangell St. Elias National Park & Preserve. Roads wind through spectacular scenery, but getting here is definitely an adventure (and well worth the effort, we think!) and we want you to understand what's involved.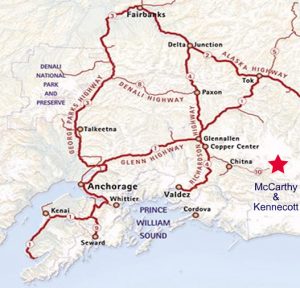 Driving on Alaska's road system can take longer than it would to drive a similar distance elsewhere.  Here are distances and driving times to the West Side of The Kennicott River (the end of the road):
| | | |
| --- | --- | --- |
| From Anchorage | 314 miles | 7.5+ hours |
| From Fairbanks | 374 miles | 9.5+ hours |
| From Denali National Park | 395 miles | 11.0+ hours |
| From Valdez | 176 miles | 5.5+ hours |
| From Glennallen | 125 miles | 4.0+ hours |
| From Chitina (the McCarthy Road) | 60 miles | 2.5+ hours |
Driving to Chitina
The drive from Anchorage, Fairbanks or Denali National Park goes through Glennallen, then south onto the Richardson Highway past Copper Center to the Edgerton Highway, about 34 miles from Glennallen (and about 80 miles north of Valdez). This road runs 33 miles to the town of Chitina, located at the confluence of the Copper and Chitina rivers.
Chugach Mountains Near Matanuska River
Wrangell Mountains from Richardson Highway
Driving from Chitina to the West Side of the Kennicott River:  The McCarthy Road
Once across the Copper River, drive the McCarthy Road, which winds another 63 miles along the old roadbed of the Copper River and Northwestern Railway to the Kennicott River. Under normal conditions the road takes about 2.5 hours to drive, though bad weather can make the road more difficult. It's wise to be prepared with food, water, a full-sized spare tire and jack, and plenty of fuel. You should start down the McCarthy road with a full tank of gas. Although many guide books say otherwise, lots of people find the McCarthy Road a relatively easy drive. The road has been improved over the years, and has been chip-sealed for the 15 miles, though it's still important to watch for larger potholes. Information about the road conditions can be obtained by calling the DOT maintenance station in Tazlina at 907-822-3222.
Some car rental companies say they prohibit taking their cars on the McCarthy Road.  Other companies allow "gravel ready" vehicles to drive the road.  You can check with the following:  Alaska 4×4 Rentals , Go North Alaska , or Budget Car Rental.
The steel span that extends over the 238 foot deep Kuskulana Canyon, about 16 miles out of Chitina, is the only railroad bridge still in use. The bridge was built in two months during the winter of 1910 in temperatures as low as 60 below zero! About halfway down the McCarthy Road are the remains of the Gilahina trestle, containing half a million board feet of lumber, built in late January, 1911 in eight days.
Confluence of Copper and Chitina Rivers
Approaching the Kuskulana Bridge 1974
Kuskulana Bridge 1974 (It's been upgraded considerably since then!
Mt. Blackburn from McCarthy Road
Mt. Regal & Stairway Icefall From the End of the McCarthy Road
The End of the Road: Parking and Crossing the Footbridge from West to East Side of the Kennicott River
The McCarthy Road ends at a footbridge across the Kennicott River. Once there, you'll need to park and then haul your gear across the Footbridge to the East Side of the River. You will need at least 45 minutes to park and pay for parking, haul your gear across the Footbridge, and load into a vehicle on the east side of the Footbridge. This includes at least 15 minutes to arrange parking at the east end of the McCarthy Road near the Kennicott River, and 30 minutes to drop off/carry your gear and use wheeled hand-carts (to be found at one end or the other of the Footbridge) to get your party and gear across the Footbridge.
There are three privately owned parking lots within the last mile of the McCarthy Road. They vary in price depending on proximity to the Footbridge.  You may want to determine a preferred parking option ahead of time in order to streamline your arrival:
| | | |
| --- | --- | --- |
| Option | Distance from Footbridge | Phone |
| | 1 mile | 907-441-5737 |
| Parking by "Visitor Information" sign (attended 10 AM to 7 PM) | 0.5 miles | 907-554-4453 |
| Base Camp Root Glacier | Next to bridge | 907-590-2854 |
Getting to 17 Silk Stocking Row –From the East Side of the Kennicott River Footbridge
There are essentially two parts to getting to 17 Silk Stocking Row:  1) getting the 5 miles (8 kilometers) from the Footbridge to Main Street Kennicott; and 2) getting the last .25 miles (.4 kilometers) up the hill to 17 Silk Stocking Row. We only have a pickup truck, and there are only sufficient seatbelts for 2 passengers, so we are generally not able to transport guests up the hill.
Take the McCarthy Kennicott Shuttle from the East Side of the Footbridge to Main Street Kennicott and then walk up the hill to 17 Silk Stocking Row, leaving your gear on Main Street Kennicott for us to bring later.
Cost $5 per seat (plus a cost per seat for gear)
First take McCarthy Kennicott shuttle to Main Street Kennicott– One-way fare to Main Street Kennicott is $5.00 per passenger with luggage or cooler held in a passenger's lap. Additional items that cannot fit onto a passenger's lap will cost additional fare, and the seat(s) will be available only if the van has room for more gear. This means that anything you can't hold in your lap must be placed on additional seat(s), and you will be charged $5 for each seat you use, assuming there is room in the van.  Schedules can vary with the season; during the peak shuttle season there are 20 departures a day from the River and 20 departures a day from Mainstreet Kennicott, with the first shuttle leaving the River (east side of the footbridge) at 9:00 AM with the last shuttle at 6:30 PM.  Plan to arrive an hour ahead of the day's last shuttle! The shuttle ride between the Footbridge and Main Street Kennicott takes approximately 30 minutes. Call Wrangell Mountain Air at 907-554-4411 or see www.mccarthykennicottshuttle.com for more detail.
Then leave your gear on Main Street in Kennicott and walk up the hill to 17 Silk Stocking Row.  We are happy to transport your gear in our pickup, but can do so only on Monday – Thursday Between 5:30 PM and 8:30 PMor Friday – Sunday between 10:00 AM and 8:30 PM.  If you will arrive earlier at Main Street Kennicott on Monday-Thursday, you can prearrange with us to leave non-scented luggage in the back of our white Ford 150 pick-up truck at the Day-Use Parking Area, located on the McCarthy side of the shuttle stop, just south of the National Park Service Visitor Center on Main Street in Kennicott. If it's raining, you can cover your gear with a tarp we'll have available.  We ask that you leave coolers and other scented items that could attract bears inside the cab of the truck, which will be left unlocked. We will then drive your items to 17 Silk Stocking Row after 5:30 PM. Please be in touch with our hosts on the day of your arrival so they are aware that your luggage is in the truck!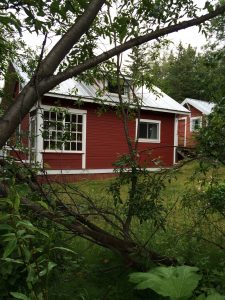 Communicating With Us on Day of Arrival
Yes, there's a lot involved in getting to 17 Silk Stocking Row, though it's not really as complicated as it may sound.  The real key is communicating with us so we can help make sure everything goes smoothly for you.  Once you make a reservation at 17 Silk Stocking Row, we'll be in touch to confirm your reservation.  Then a few days before your arrival our hosts will be in touch to clarify logistics.  Then on the day of your arrival we ask that you be in touch with our hosts by phone or SMS as you depart from your point of origin, arrive in Glennallen, in Chitina, and at the west side of the Kennicott River.
Along the McCarthy Road and in Kennicott, Verizon phones work but other carriers stop functioning reliably near Glennallen. There are public phones along the route (at Chitina Wayside pavilion and at the end of the road just west of the Kennicott River.  These phones are free to a number beginning with "907-554" but require a long distance calling card for all other numbers.
Check In
Cottage check-in time is between 3:00 PM and 8:30 PM.  Check-out time is before 11:00 AM.  If you arrive Monday-Thursday, the hosts will orient you to the cottage at 5:45 PM (or until 8:30, if you arrive after 5:45).  If you arrive Friday-Sunday, the hosts will orient you on arrival at the cottage, between 11:00 AM and 8:30 PM.
Flying
Another option is to fly from Chitina to the 3,500 foot gravel McCarthy Air Strip located located 4 miles from Kennicott and then take the airline shuttle to Main Street Kennicott. The flight route includes the flanks of 16,390 foot Mt. Blackburn and along the 7,000 foot Stairway Icefall and provides a great overview of the area. Wrangell Mountain Air provides several flights daily between Chitina and McCarthy-Kennicott during the summer season; they also fly from Glennallen to McCarthy-Kennicott.  If you fly with Wrangell Mountain Air, they will transport you from the airstrip to Main Street Kennicott as part of your fare.  You would then need to make arrangements with our hosts to get you and your gear the last .25 mile (.4 kilometer) up the hill to 17 Silk Stocking Row.